Yacht Caretaking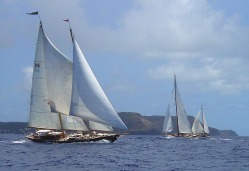 SeaKist Services S.A. offers professional caretaking inspections of your yacht however often you wish, and will email you a picture with inspection details each month with the invoice. From that invoice you can click the link to this website and pay your bill with a credit or debit card via PayPal. Easy!

>>>The yacht storage slip fee at The Crow's Nest includes two caretaking inspections each month.<<<

Ideally, we will meet with the owner before they leave the Rio Dulce to take note of special instructions, closed thru-hull valves, etc., for optional operation of engines, gensets, watermakers, etc. - we intend to run your equipment your way! Alternatively, this information can be conveyed by email.

Each and every $60 Yacht Caretaking Inspection includes the following checks and features:

-Docklines
-Awnings/tarps
-Interior mildew and/or obvious water intrusion
-Evidence of insects or rodents aboard
-Battery voltages: house, engine, generator
-Lead/acid battery water levels
-Bilge levels
-Manually trip bilge pump float to check operation (if accessible)
-Up to 10-minutes of corrective maintenance for any problems noted
-A picture or two of the boat or an item of concern for email to owner
-Noteworthy inspection details for email to owner

The following services can also be performed at any inspection interval*:

-Run a propulsion or generator engine: $10 an engine. Included is: open one reasonably easy thru-hull valve, check oil and coolant levels of engine and transmission, check general hose and belt condition, start engine, check water/exhaust flow, run to operating temperature (10-15min), note alternator or generator output, stop engine, and close one reasonably easy thru-hull valve (if opened). Note: Operation of propulsion transmission and/or adjusting the shaft packing is not included, nor is operation of stuck or hard-to-reach thru-hull valves, but these can be contracted for at our $50/hour rate, prorated for actual time spent.

-Run a watermaker system: $10. Included is: open one reasonably easy thru-hull valve, align system valves and run watermaker as per owner's instructions (10-15min), check output and/or log as per usual practice aboard, secure watermaker system, close one reasonably easy thru-hull valve (if opened).

*By way of example, an owner might choose to have the Yacht Caretaking Inspection performed twice a month, and have the propulsion engines run once a month.




---